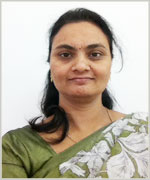 Dr. Sudha Rani
Director, AQJ Centre for PG Studies
The college is forging ahead in providing state of art management education under the able guidance of Dr.P.Sudha Rani, a management student from Andhra University..
She is a doctorate in Management and has many articles published in reputed International and National journal to her credit. An able administrator and a proficient academician, she is a constant pillar of support to the college and to the faculty who look up to her for the exemplary guidance and support in academics and administration..
Directors Address:
For more than a decade, AQJ Centre for PG Studies has exemplified excellence in management education. The institute has traversed many boundaries to develop its own expertise in management education and research.
Our programmes are competitive and challenging with a focus on imparting cutting-edge management skills of relevance and rigour to our students. The intellectual and social energy at AQJ will energise the aspiring student and drive them to think globally and develop a deeper and wider perspective of the corporate world.
Our expertise and knowledge is based on the rich experience of our faculty which makes our MBA, MCA and BBM programmes very enriching and action-oriented.. Students at AQJ PG Studies are bright and innovative, and well equipped in latent skills in both theory and practice, with a positive 'can do' attitude. The students are exposed to the practicalities of the corporate world through rigorous training sessions which transform them into professionals with a holistic view of life and caring citizens of the world.
The fast emerging Industrial, Technical and Social metropolis, Visakhapatnam, provides the perfect back drop to nurture the nascent management professional into honing essential skill sets to face the monstrous challenge of the corporate world. Visakhapatnam is the most scenic place in the coast and is also growing as a Industrial and technological hub with many public sector enterprises and private business houses setting up shop in the city. Many retail majors, garment industries and pharma companies are planning their venture in Visakhapatnam. This environment added to the academic excellence provided by the college, gives management students the right perspective and direction to plan his/her career in the most successful manner.
I welcome you to join the family of proud AQJ PG Studies and explore the wealth of opportunities at Visakhapatnam.